Love Art Exhibition at ART-Plus Gallery

TROPICAL LIFE
Article by Daisy Olivera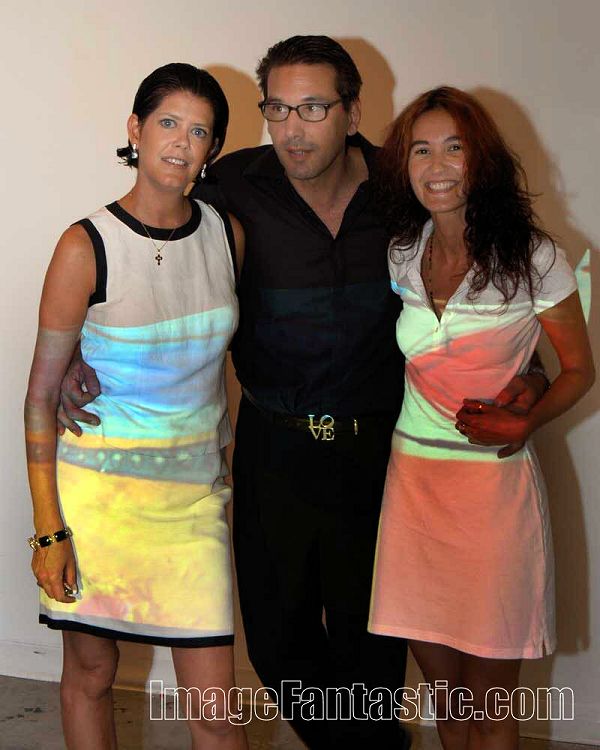 ANNA BALBOA EXHIBIT
It was all about Euro-chic at Art Plus Fine Art Gallery at the Village of Merrick Park Friday.
Several hundred art lovers and collectors attended the exhibit of Anna Balboa, an artist from Barcelona who has been living in Miami for several years.
Gallery co-owners and husband and wife Jean Bernard and Debra Arman hosted the event. Arman has been active in the pop art world for many years; Andy Warhol, Keith Haring and photographer Helmut Newton's wife, Alice Spring, painted her portrait.
Arman says she is feeling the same "vibe" in Miami that she felt in the New York pop art scene some 20 years ago.
Balboa's exhibit included small objects, hand-painted clothing and larger-scale paintings. Her work is full of life and color, replete with little characters and happy faces — a perfect match for the Pediatrics Cancer Research Foundation, which will receive a percentage of the profits.
White drapes separated different sections of the gallery, creating a magical feeling heightened by several of the gallery's bright red walls. More than 250 art enthusiasts attended including Oscar Cury Paniagua; Spanish consul general Javier Vallaure; artist Erika King; Spanish artist Teofanu; interior designer Jeffrey Wade; Spanish Chamber president Alfonso de Goyeneche; Gaston Dupre, general director of Aqua Chile; Spanish attorney Jordi Torrents; Miguel Costa; and architect Eduardo Aldacour.